Crochet a Christmas Gnome
Hello, I just realised Christmas is just a little more than 2 months away! Just wondering if you have started to crochet Christmas ornaments? I found this super cute and adorable Christmas gnome amigurumi pattern that is absolutely free and available for you to try out! The colors used in this pattern is so attractive and will be a perfect ornament for your Christmas tree!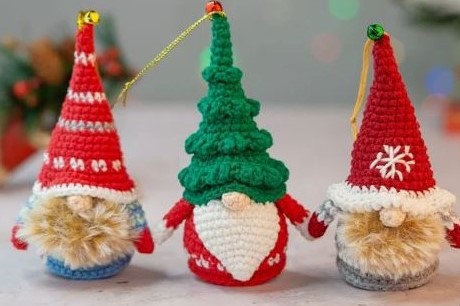 Well, get your hooks, yarn and let's start crocheting!
Materials
Cotton yarn in red, grey, white, blue, mint, light peach
2mm crochet hook
Fluffy yarn for beard
Fiber filling
stitch marker
yarn needle
colored bell
2mm crochet hook
Pattern:
Body
R1   6 sc in MR (6)
R2   6 inc (12)
R3   (1sc, 1inc) *6 (18)
R4   (2sc, 1inc) *6 (24)
R5   (3sc, 1inc) *6 (30)
R6   (4sc, 1inc) *6 (36)
R7   BLO, 36 sc (36)
R8 – mint yarn : 36 sc (36)
R9 – blue yarn : (2sc, 1dec, 2sc) *6 (30)
R10 – mint yarn : 30 sc (30)
R11 – blue yarn : 30 sc (30)
R12 – mint yarn : (3sc, 1dec) *6 (24)
R13 – blue yarn : 24 sc (24)
R14 – mint yarn : 24 sc (24)
R15 – light peach : (1sc, 1dec, 1sc) *6 (18)
R16 18 sc (18)
– Stuff body with fiber filling
R17   (1sc, 1dec) *6 (12)
R18   12 sc (12)
R19   6 dec (6)
Beard – use fur yarn
R1   ch 7, 6sc (6)
– cut and glue the ends behind the beard piece
– glue the beard on to the body
Nose: Use light peach yarn
R1   6 sc in MR (6)
R2   6 sc (6)
R3   6 sc (6)
sew the nose at the top edge of the beard
Arms (make 2)
Red yarn
R1   6 sc in MR (6)
R2 – R3   6sc (6)
– change to blue yarn – alternate with mint
R4 – R8   6sc (6)
– cut yarn and attach to body
Hat – use red yarn
R1   4sc in MR (4)
R2   4sc (4)
R3   (1sc, 1inc) *2 (6)
R4   6sc (6)
R5   white yarn:   6 sc (6)
R6   red yarn:   6 sc (6)
R7   (1sc, 1inc) *3 (9)
R8    9 sc (9)
R9    (2sc, 1inc) *3 (12)
R10   white yarn: 12 sc (12)
R11   (3sc, 1inc) *3 (15)
R12   15 sc (15)
R13   (4sc, 1inc) *3 (18)
R14   grey yarn: 18 sc (18)
R15   red yarn: (2sc, 1inc) *6 (24)
R16   24 sc (24)
R17   24 sc (24)
R18   (3sc, 1inc) *6 (30)
R19   (2sc in white yarn, 1sc in red yarn) repeat to the end
R20   red yarn: 30 sc (30)
R21   (4sc, 1inc) *6 (36)
R22   (5sc, 1inc) *6 (42)
R23   white yarn: 42 sc (42)
Fasten off
Attach bell at the top of the hat (optional)
Attach the hat onto the gnome

There are more crochet patterns for you to checkout here, anyways, thanks for coming by! PopularCrochet